Prime XBT Review
Cryptocurrency Exchange
Wide range of cryptocurrencies and other assets
100x trading leverage available
2FA ensures security
No KYC required
Do not accept US clients
Demo account not available
Not regulated exchange
Overview

CHAPTER 1
Prime XBT Introduction

CHAPTER 2
How Prime XBT Direct Works

CHAPTER 3
How to sign up and use Prime XBT

CHAPTER 4
PrimeXBT Features

CHAPTER 5
Prime XBT Conclusion

FAQ
Frequently Asked Questions

PLATFORM
View Screenshots

CONCLUSION
Pros and Cons
CHAPTER 1
Prime XBT Introduction
---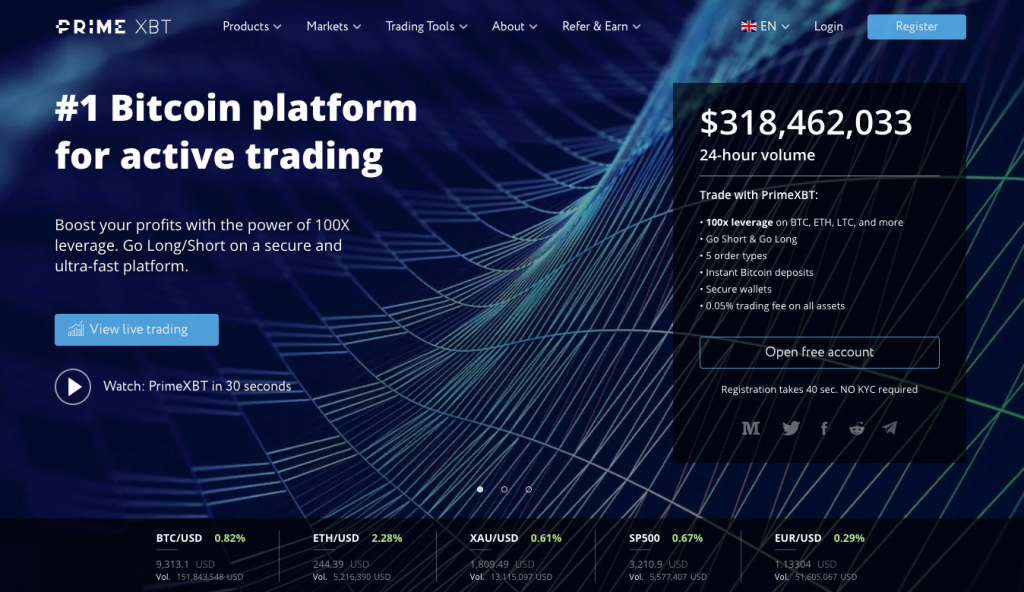 Is PrimeXBT reliable? What's the story behind this cryptocurrency exchange? We have done our extensive research and in this PrimeXBT review, we'll let you know if you should use this derivative trading platform.
Let's now find the answers to all these questions in our complete review of PrimeXBT.
PrimeXBT is an award-winning trading crypto exchange that also offers trading in derivatives – forex, indices, CFDs, and commodities. PrimeXBT was established in 2018 in Seychelles. The company behind the trading platform is Prime XBT Trading Services and their registration number is 217308.
While they have an office opened in St Vincent & The Grenadines, they have also have moved their trading infrastructure to a crypto-friendly country of Switzerland. The goal is to ensure that their clients enjoy the highest level of security and privacy.
Within a short period of time, PrimeXBT has grown exponentially and currently provides its services to clients in over 150 countries. At the time of writing, PrimeXBT claims to have over 40 employees and boast over $545 million in average daily volume. This indicates that PrimeXBT has many users and a lot of investment.
This crypto exchange offers its users the ability to trade on its platform an impressive range of different cryptocurrencies, including Bitcoin, Ethereum, Ripple, and Litecoin. This one of the reasons why PrimeXBT is so attractive to cryptocurrency traders.
CHAPTER 2
How Prime XBT Direct Works
---
Wondering how PrimeXBT  works? If yes, we'll show you how by clearly explaining how conventional crypto exchanges work.
On PrimeXBT, users are allowed to speculate on the price movement of various assets with Bitcoin.
Let's take XRP/BTC for example.
You can speculate the XRP will rise or drop in value against BTC, and you do this using BTC. If you speculate with 1 bitcoin that XRP price will surge against BTC in 24 hours and it does increase by 10%, you'd make a profit of 0.1 BTC and your balance would be 1.1 BTC.
In that case, you don't have to buy or sell XRP/BTC but only speculate on their price variation using Bitcoin.
What is more, with PrimeXBT, you can speculate in this price movement with a high level of leverage that is up to 100x for crypto trading and 500x for forex-related products. So a 100x leverage means that if you have 1 BTC, you can trade up to 100 BTC.
In addition, you can use 1 BTC in your wallet to trade more assets without having to go through the tedious Know Your Customer (KYC) process. This is exactly how PrimeXBT works, different from traditional crypto exchanges.
Having said that, if you decide to try out this main feature of PrimeXBT, then you will need to register an account.
CHAPTER 3
How to sign up and use Prime XBT
---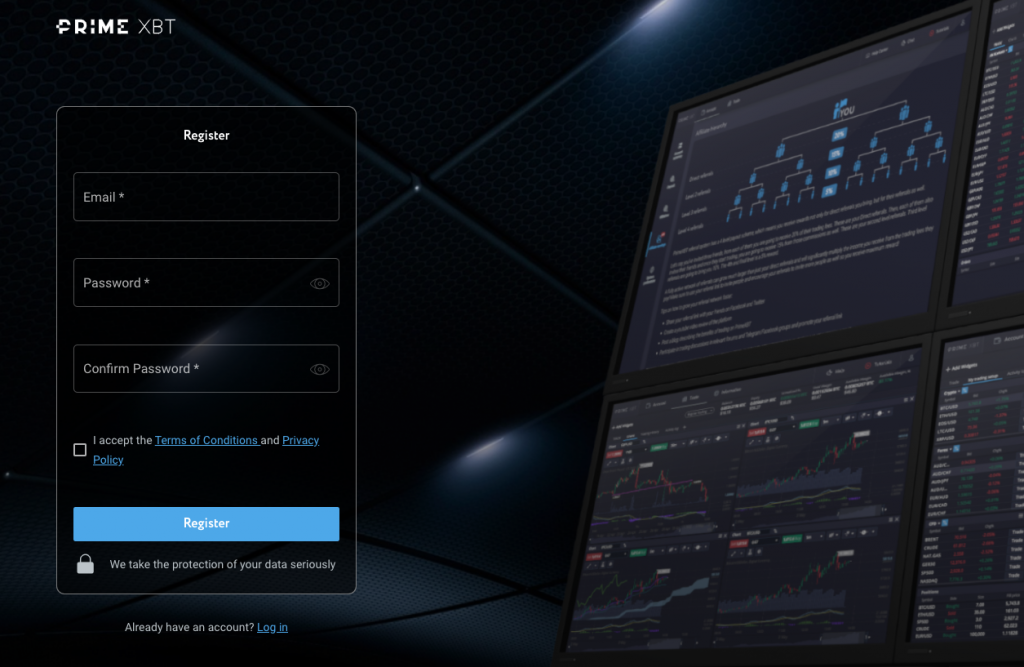 To open an account with PrimeXBT, you will need to visit their website and click on the "Register" button found on the top right-hand side of the page.
Enter your valid email address and a set of passwords. You'd need to accept their terms and click on "Register" to submit. Once done, you will receive an email in the address that you have provided. Click on the link so that you can verify your email address. This will complete the registration process and you are now ready to login to your PrimeXBT account and enjoy this feature and more.
Deposit and Withdrawal
Once your account is verified, you can start to fund or withdraw from your account. As we've previously mentioned, PrimeXBT is a cryptocurrency exchange, and deposits are made exclusively in Bitcoin.
To make a deposit, simply send your coins to the BTC address linked to your account. The minimum deposit is 0.001 BTC.
Don't have any Bitcoin and want to purchase to make a deposit?
Interestingly, you don't have to leave the site. To make it easier for users who do not yet own Bitcoin to participate, PrimeXBT has integrated Changelly as a third party bitcoin purchasing service. You can purchase BTC with your credit/debit cards and then send it directly to your PrimeXBT account BTC address.
Want to withdraw your profits? The withdrawal process is quite simple. Head to the "withdraw" page and provide your Bitcoin wallet address. Thereafter, you'd have to wait for your withdrawal request to be processed.
CHAPTER 4
PrimeXBT Features
---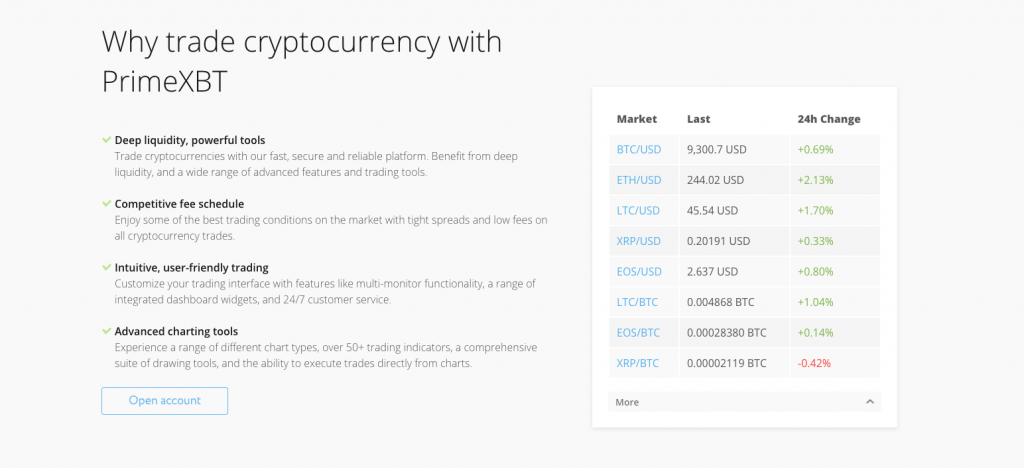 Below, are the factors that make PrimeXBT stand out from the rest.
Fees
PrimeXBT exchange is transparent with their fees structure which is listed on the website. At the time of writing, PrimeXBT charges a very low flat fee of about 0.05% for trading cryptocurrency assets.
Supported countries
As previously mentioned, PrimeXBT offers its services to clients in more than 150 countries. However, the countries listed below have been excluded:
USA
North Korea
Iran
Syria
Quebec
Hong Kong
Algeria
Ecuador
Ethiopia
Zimbabwe
Ivory Coast
Sudan
Cuba
Crimea
Customer support
PrimeXBT customer support desk is excellent and available 24/7 either via live chat or email. You can contact their team on [email protected] and [email protected] if you have any questions.
Security
PrimeXBT takes the safety and security of its clients very seriously. The company boasts of having cutting edge technology to prevent attacks. Some security features include:
Two-factor authentication (2FA) and SSL
Cold storage of digital assets
Bitcoin address whitelisting feature
Cloudflare's technology
Hardware security modules
PrimeXBT is also hosted on AWS ("Amazon Web Services") which has a proven track record for security in the industry.
Language support
The support team only speaks English and Russian.
CHAPTER 5
Prime XBT Conclusion
---
To conclude our PrimeXBT review, this exchange is ideal for all who are interested in margin trading on cryptocurrencies. Although new in the crypto industry, this is an exchange recommended for those who prefer to remain anonymous (KYC-free) when trading cryptos.
It's worth mentioning too that they have a secure and easy-to-use platform for both new and experienced traders. What is more, when compared to other market participants, PrimeXBT's trading fees are reasonably low.
If you are searching for a crypto exchange that has a good amount of order types and offers leverage, then PrimeXBT is the right one for you!
Frequently Asked Questions
Is your question not answered here? Let us know!
Ask your question in the comments below!
Pros and Cons with Prime XBT
Wide range of cryptocurrencies and other assets
100x trading leverage available
2FA ensures security
No KYC required
Do not accept US clients
Demo account not available
Not regulated exchange