Anycoin Direct Review
Cryptocurrency Exchange
A variety of cryptocurrencies
Supports several funding options
Intuitive and simple to use interface
Accepts EUR only
Available in Europe only
Overview

CHAPTER 1
Anycoin Direct Exchange Introduction

CHAPTER 2
How Anycoin Direct Works

CHAPTER 3
Anycoin Direct Exchange Features

CHAPTER 4
Anycoin Direct Conclusion

FAQ
Frequently Asked Questions

PLATFORM
View Screenshots

CONCLUSION
Pros and Cons
CHAPTER 1
Anycoin Direct Exchange Introduction
---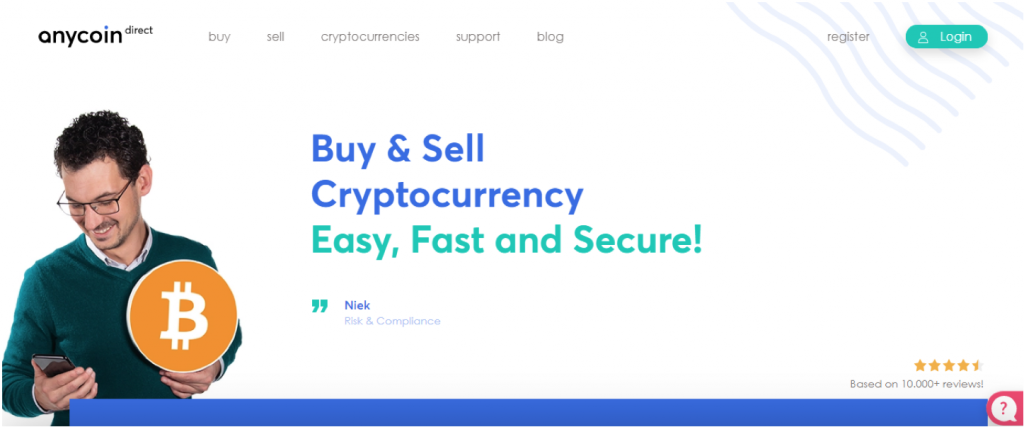 Is Anycoin Direct a scam or a legit website? In this Anycoin Direct review, we'll reveal everything you need to know about this platform that offers users the possibility of buying major cryptocurrencies with fiat currency.
Anycoin Direct, formerly known as Bitplaats, is one of Europe's largest cryptocurrency exchanges that was established in 2013. Headquartered in the Netherlands, the exchange platform is registered by the Chamber of Commerce under company number: 59466197.
With great interest and impacts mainly in Europe, Anycoin Direct makes it quick and easy for it's over 400,000 happy customers to buy cryptocurrencies.
Furthermore, the platform offers 26 different cryptocurrencies that you can easily buy with different popular payment methods. So far, Anycoin Direct has never been hacked.
The exchange also has a simple and intuitive user interface. There are no complicated charts or charting tools, no order history, or order book. But the platform contains more important information about transaction costs. Because of this, Anycoin Direct is suited for both experienced and new traders that want to buy their first bitcoins.
The platform's success can be attributed to its powerful founding team, made-up of COO Lennert Vlemmings, CFO Bram Ceelen, and CTO Julian van der Wijst.  —each of whom is experienced with finance, trading platforms, and web interfaces.
To properly review Anycoin Direct, it's also crucial to show you how the platform works. We'll also compare the pros and cons of the exchange as well as explore its features and more. At the end of the article, you will know exactly if the Anycoin Direct is a good platform for you, or not.
The video below shows the dedicated team behind Anycoin Direct.
CHAPTER 2
How Anycoin Direct Works
---
Notably, Anycoin Direct does not store your cryptocurrency. Rather, it sends your coins immediately to your crypto wallet right after you buy them. The advantage of this is that your coins are kept safe even if Anycoin Direct suffers a hack attack.
Like most crypto exchanges, Anycoin Direct requires identity verification for larger amounts as it complies with the Dutch KYC/AML laws.
Anycoin Direct has 5 account verification levels with different limits.
For example, level 1 does not require verification for a transaction up to €100 per day, but no more than €250 per week. On the other hand, Level 2 to 5 requires verification. For instance, level 5 enables customers to buy up to €25.000 worth of cryptocurrencies per week and to sell up to €50.000.
To upgrade your account to the next levels, customers need to send a digital copy of an ID document and proof of residence. Anycoin Direct also uses Skype to validate new clients on video.
While other crypto exchanges take weeks for verification, Anycoin usually takes 2 hours to verify your documents.
Deposit and withdrawals options
Once your trading account is verified, you will be able to log in and deposit or withdraw your account. With the several payment options, Anycoin Direct is obviously doing its best to provide convenience for its potential customers. For example, they support:
Visa and Mastercard,
Bank Transfer (SEPA Direct),
iDEAL,
Bancontact,
EPS,
SOFORT,
GiroPay,
MyBank
However, bear in mind that you have to pay for any of the payment methods utilized. Anycoin Direct charges a small percentage of the trading fees on each transaction, which allows them to generate revenue.
How to sign up and use
Buying and selling cryptocurrency on this platform is a pretty straightforward process. To begin using Anycoin Direct, you will first need to create an account on the platform.
To do this, simply click on the Login link on the top right corner of the website and complete the required fields. You will be required to provide your full name, mobile number, email address and a secure password.
Once submitted, you will receive a verification email containing a link you will need to click on to activate your account.
CHAPTER 3
Anycoin Direct Exchange Features
---
Anycoin Direct offers traders a variety of prominent features. Let's now highlight the core feature that set this platform apart from the rest:
Fees
Due to the competitive market, the fee structure of Anycoin Direct is cutting edge. Setting up an account on the platform is free. Interestingly, you will receive €0.25 to start trading with if you like their Facebook page!
As you would expect, deposits are free. However, you will have to pay a fee known as the miners' fee and the payment processor fee when buying coins on Anycoin Direct.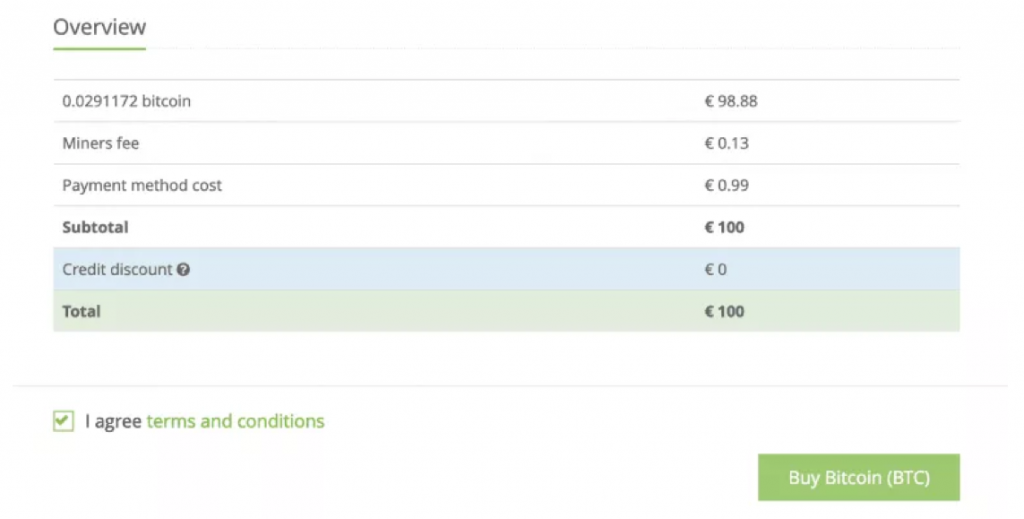 The Miners or the network fee is what you pay each time you make a transaction to reward the miners for the service they provide. The second fee is paid by the mode of payment utilized. Bear in mind that the fee differs per crypto and per amount of crypto you're buying.
Supported coins
At the time of writing, Anycoin Direct has an impressive cryptocurrency selection available for trading including Bitcoin, and 25 other altcoins like Ethereum, Ripple, Litecoin, and Bitcoin Cash.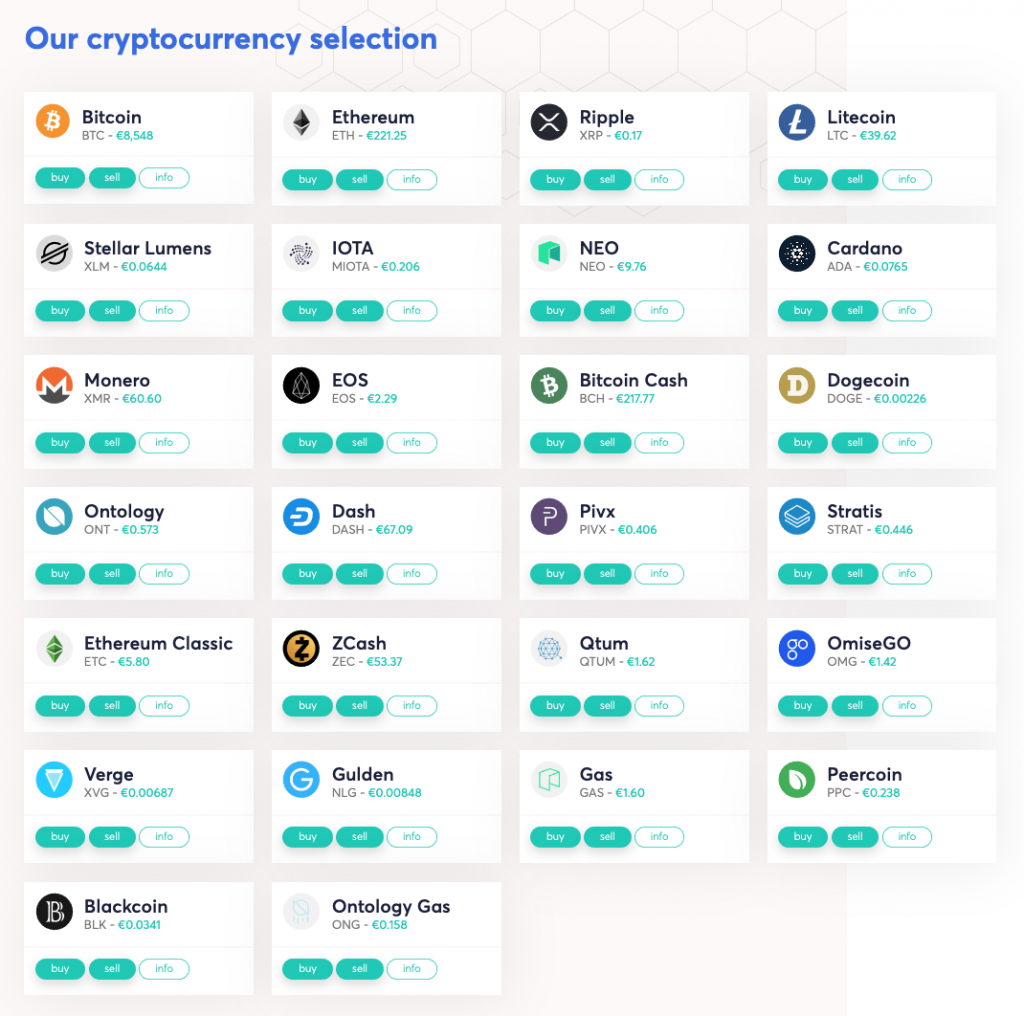 All these supported coins by the exchange can be deposited and withdrawn.
Supported countries
Anycoin Direct is currently only available in Europe and all crypto assets on the exchange are paired in EUR.
The exchange accepts users from any European country.
Customer support
Fortunately, customer support is one area where Anycoin Direct performs pretty well. The platform has an excellent and dedicated support team that is available to answer any question you may have every day of the week.
Notably, the platform features various educational and informative articles and FAQ pages for clients to refer to if they have any questions or problems. In addition, customers can open a support ticket which is answered as fast as they can.
You can contact the customer support team via email or via phone, and they are online during the following hours:
Monday – Friday: 10:00 – 22:00
Saturday – Sunday: 11:00 – 18:30
Security
Security at Anycoin Direct is generally sound. The platform encourages customers to enable two-factor authentication (2FA) to secure their trading account. They can also choose to use either Google Authenticator or SMS authentication on their mobile phone.
Language support
Happily, the Anycoin Direct is completely multilingual. That means most users can get along fine in one language or another. The platform is currently available in English, Dutch, German, French, Italian and Spanish.
CHAPTER 4
Anycoin Direct Conclusion
---
In this Anycoin Direct review, you can see that this platform has cemented their position among the top cryptocurrency exchanges in Europe. Anycoin Direct offers especially new customers a practical and easy method for buying and selling cryptocurrency.
For those looking to trade a large selection of digital currencies, this platform remains one of the best choices.
If you value good customer support, quick transactions, and a low commission, then Anycoin Direct might just be what you are looking for!
Frequently Asked Questions
Is your question not answered here? Let us know!
Ask your question in the comments below!
Screenshots of Anycoin Direct
Pros and Cons with Anycoin Direct
A variety of cryptocurrencies
Supports several funding options
Intuitive and simple to use interface
Accepts EUR only
Available in Europe only