The internet is enormous! By January 2018 there were 1,805,260,010 websites (Netcraft Survey) though most of them get almost no visitors. 2019 statistics show there are 4,100,667,287 internet users worldwide and social media adoption is at it speak. However, reports also show that only about three percent of websites are embedded with the share button.
Unfortunately, that is something most business owners and internet and social media users haven't realized. When people share online content with friends, they provide free advertising to the owners of the content, advertising that would necessarily cost them an arm and a leg on leading social media outlets for the amount of traffic they receive. What's more, the advertiser has the benefit of social proof as friends trust friends and are more likely to look favorably at the content they recommend.
There hasn't been a practical way to incentivize online content sharing. Under normal circumstances, such a content-sharing reward system would be too expensive, and intermediaries and high fees would make it out of reach. Thankfully, Sharpay has brought a practical system for rewarding users sharing online content by taking advantage of the Distributed Ledger Technology (DLT) aka blockchain, with its low or no fee micro-payments.
What is Sharpay?
Sharpay is a blockchain-based system that rewards users with digital tokens (read a new way of mining cryptocurrencies) as an incentive for sharing online content. This automated system is a convenient way for rewarding website owners and social media users since both parties benefit mutually. People don't put any effort to share content no matter how much they love it; the introduction of Sharpay is changing that. With Sharpay, whose mantra is "You Share, We Pay," more websites are likely to integrate Sharpay buttons into their websites.
How it Works
Sharpay buttons work just like the traditional content sharing buttons, and you can easily place them at your regular webmaster. However, where the regular social media marketing tools lack in offering exacts statistics and a proper reward system, Sharpay strongly fills in the gap. With Sharpay's one-click content distribution to social media formula, content managers don't have to burn the midnight oil of vast amounts of money to reach the right audience, Sharpay enables websites to automatically attract increased traffic and conversions at a much lower cost.
How it works for users: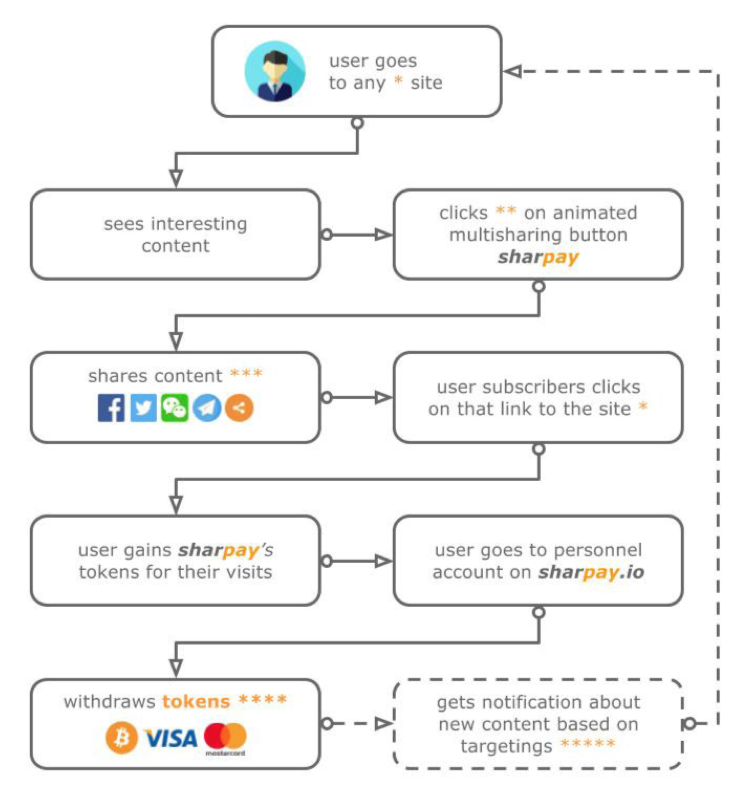 How it works for sites: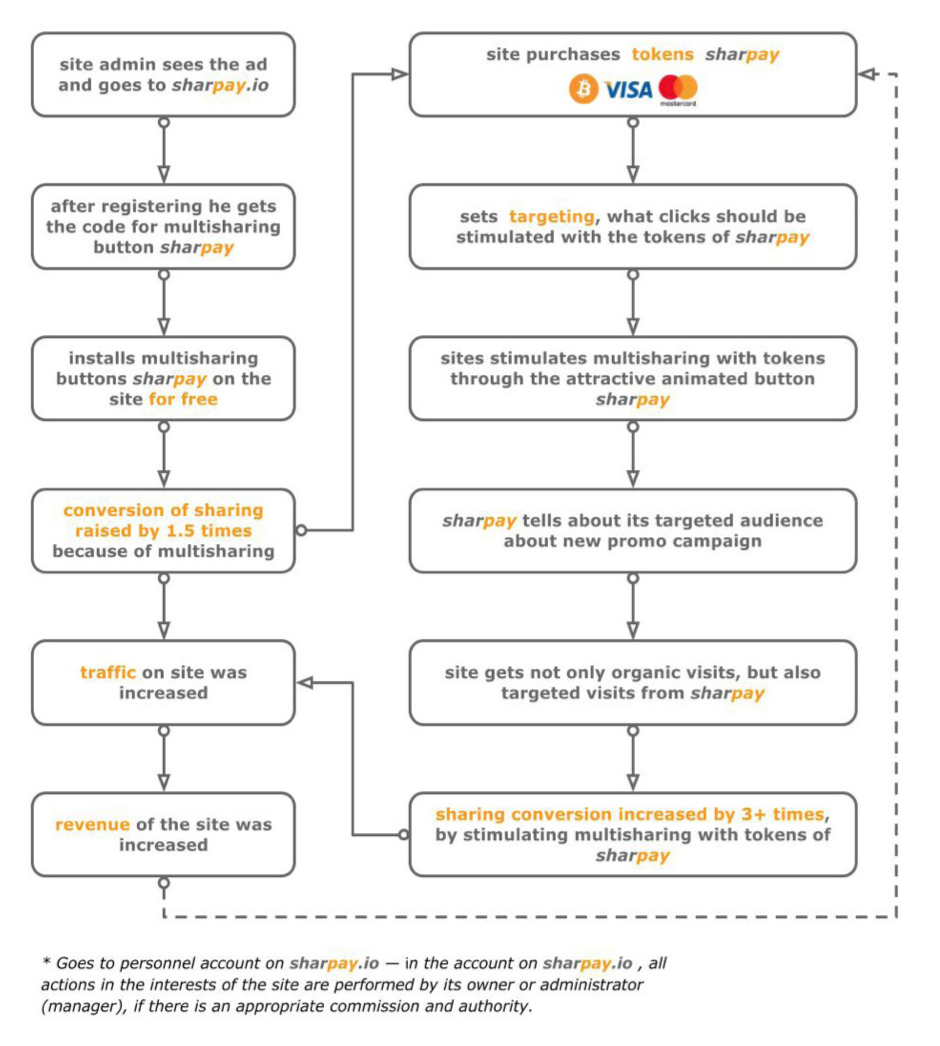 Benefits of the Sharpay Solution
The Sharpay solution offers an incentivized platform to promoters to make their online content viral. The platform uses a Multisharing component to share content that exists in multiple networks and which enables users to be rewarded for sharing links. Some tangible benefits include:
Content is viewed by millions of people on different social media networks, increasing traffic, conversions, and profits
Online content owners get increased popularity while users generate cryptocurrency they can convert later
The Sharpay button has a security component that protects users from fraudulent and suspicious sites
Sharpay's revolutionary Multisharing component that proffer's blockchain benefits is protected by an international patent
Sharpay has the potential to grow and cover the international market
Conclusion
Sharpay share buttons represent the next-generation of targeted content distribution on social media companies with a reward for getting involved with the multi sharing component that enables one-click for posting on multiple social media concurrently. Sharpay's hi-tech blockchain-based platform has incentivized content sharing making information posting to be more convenient.
What are your thoughts on Sharpay? Have you used the sharing button? Why not try it now? Share this content and receive your free tokens below.
Trade with eToro

Best Cryptocurrency Exchange. Open An Account In 3 Minutes. 24/7 Trading. Lowest Fees.

Trade with eToro

Best Cryptocurrency Exchange. Open an Account in 3 Minutes. 24/7 Trading. Lowest Fees.
(Risk Disclaimer: Cryptoasset investing is highly volatile and unregulated in some EU countries. No consumer protection. Tax on profits may apply. Don't invest unless you're prepared to lose all the money you invest. This is a high-risk investment and you should not expect to be protected if something goes wrong.)