iGaming Industry Set to Experience Rapid Growth in Francophone Africa
20 February, 2023 | Press-releases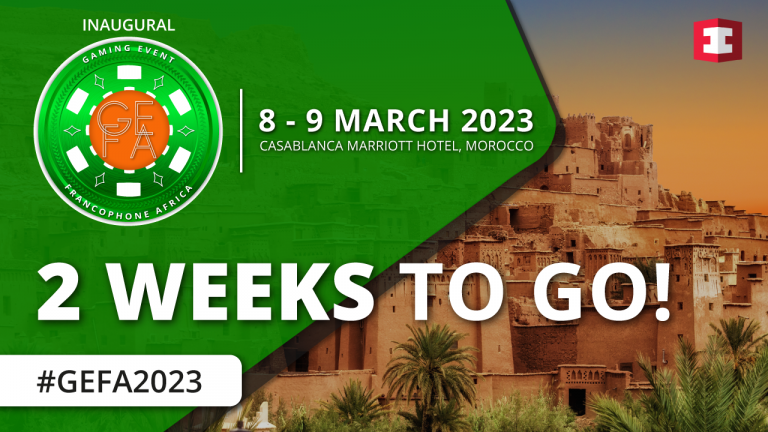 By: Staff Writer at Eventus International
20 February 2023
In August 2022, Christophe Casanova, Hondré Gaming's COO, and Co-Founder highlighted the vast growth potential of the iGaming industry in French-speaking Africa during an interview with Gamblingnews.com. Like many online gaming professionals, Casanova is confident that the region will experience exponential growth over the coming years. This means the time is ripe to enter and expand the iGaming industry in Francophone Africa. With this in mind, Eventus International, with more than a decade of experience in emerging iGaming markets, is hosting the Gaming Event Francophone Africa 2023 (GEFA 2023) to supply operators, providers, and investors with the insights and networking opportunities needed to succeed in French-speaking Africa.
 
GEFA 2023, taking place at the Casablanca Marriott Hotel in Casablanca, Morocco from 8-9 March, is the ultimate event for industry leaders, sportsbook professionals, and gaming executives to collaborate toward an established, trustworthy gaming industry in Francophone Africa. It is a must-attend event for anyone looking to enter the untapped potential of online gaming in the region.
Several reputable publications on the continent, including  Business Insider Africa, Tech Financials, and the Mail & Guardian have acknowledged the rapid growth of the online gaming market in Africa. Recent articles from these sources suggest that young populations, fast-growing mobile infrastructure, and historical passion for gaming and sports betting across the continent, including in Francophone Africa, have been the main driving forces behind this growth.
With 140 million players living in Africa and exponential growth predicted for the future, there has never been a better time to enter and grow in this market. GEFA 2023 offers valuable insights, strategies, and networking opportunities to attendees looking to access this booming market.
Eventus International has sourced a diverse range of local and international industry-leading speakers to guide attendees through opportunities to enter and expand in the Francophone Africa market. Some of the top speakers include,
Alexis Mbah Komangar, Sales Coordinator at Premierbet Chad
Annabel Ashalley Anthony, Founder and International Relations at Melanin Games and Ghana Esports Federation
Ife Akintaju, COO at Mobiele
Marc Alexandre Saba, Executive Board Member and Co-Founder at Moja Group Inc.
 
GEFA 2023 is the perfect platform for C-level executives to learn about cutting-edge payment solutions, the growth potential for lotteries and sports betting, and content creation for the Francophone Africa market, as well as attend presentations on SEO optimization, how to combat match-fixing, and exclusive networking opportunities throughout the event. Register to attend today or contact Eventus International to hear about the world-class sponsorship and exhibition opportunities on offer at GEFA 2023, https://www.eventus-international.com/gefa
Contact Eventus International's Marketing Director, Lou-Mari Burnett, to grow your business in Asia, Europe, Africa, North America, and beyond with our sponsorship and exhibition packages for the listed events.
Lou-Mari Burnett
Marketing Director
Eventus International
Email: [email protected]
Phone: +27829075850
Eventus International has been in the business of connecting industries for over a decade. With a proven combination of networking, industry insight, and knowledge sharing each event brings an industry closer together and closer to achieving a collective goal.
We take pride in using our platforms to offer bespoke sponsorship and exhibition opportunities that can easily position a brand to a targeted audience of professionals, and deliver a high ROI to companies looking to enter a market and/ or strengthen their brand presence.
We believe in quality over quantity and set out to gather the "right" audience for companies to "shake the correct hands". By focusing on connecting a C-Level audience, all attendees can network with like-minded professionals, growing their businesses and international relationships.
The high standards that we set for ourselves are responsible for the success of events such as the SPiCE India, Gaming Event Francophone Africa, BiG Africa Summit, Online Casino Summit Italia, Cyprus Gaming Show, iGaming Germany, iGaming Central America, All American Sports Betting Summit, Sports Betting East Africa+, SPiCE Sri Lanka, iGaming Crossroads Summit, Sports Betting West Africa+, Paris Payment Expo, SPiCE Philippines, Gaming & Affiliate Marketing Event, Scandinavian Gaming Show, SPiCE Bangladesh, T.H.E Dubai Expo, International Lottery Play Summit