Next Block Expo is aiming to become the biggest blockchain festival in Europe
17 August, 2022 | Press-releases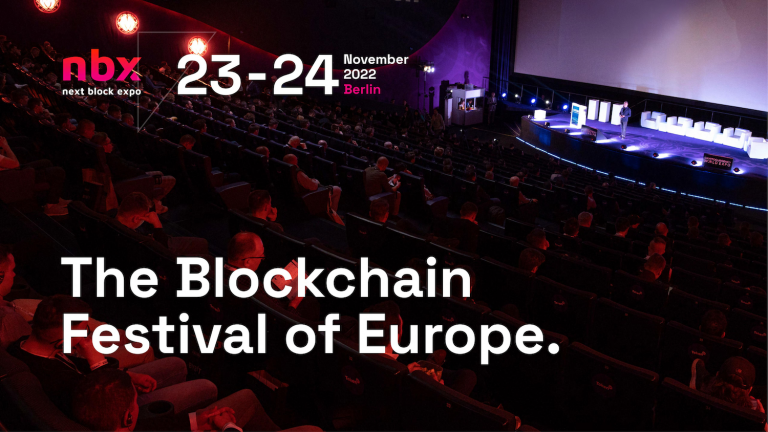 First edition will be held in Berlin, Germany, 23-24 November 2022 with more than 5000 attendees. In 3 months from now, the Berlin Station will be the most important place in the European blockchain map, linking together the most important names from blockchain.
"We are bringing founders, investors and blockchain experts together to redefine and discover Web3 future" – says Tom Kopera, Next Block Expo Co-founder.
The organizers expect more than 5000 participants at the conference plus another 10 000 attending online. Venue can host more than 100 exhibitors and sponsors. Everyone will be able to listen to more than 50 top blockchain speakers.
The biggest blockchain festival of Europe is dedicated to web3 startups no matter the stage of development. The event will bring together founders, angel & retail investors, venture capital firms, developers & software houses and all kinds of industry experts.
There will be six types of events to attend. The most influential people in blockchain space will share their visions about web3 from the main stage during Presentations time. Round Tables will be an opportunity to understand different perspectives. During Workshops, experts in respected fields will share their knowledge with participants. All exhibitors will be able to submit their projects to the Pitch Contest, where the best startups will be selected by experts. We also plan Hackatons for hard-core developers who want to learn by doing and Side Events organized directly by startups for their communities.
The conference will be divided into six content tracks: DeFi
Blockchain gaming
Metaverse / NFT
Scaling & Infrastructure Web3 Discovery Fundraising and investing
"It is a unique opportunity to either find partners for your project, talk to investors and venture capital firms, see what is 'hyped' and maybe find the next big thing to invest into" – says Tom Kopera. "But most importantly we want to focus on the future of Web3 – we are witnessing a new economy that is a combination of what web3 already created and now traditional sectors are jumping in. So let's discuss, brainstorm and share our vision of the future".
Next Block Expo is an extension of a previous series of events held under the name Cryptocurrency World Expo over the last six years.
More info: http://nextblockexpo.com
Resources for participants, sponsors and exhibitors.
Follow us on Twitter to be up to date with the news.