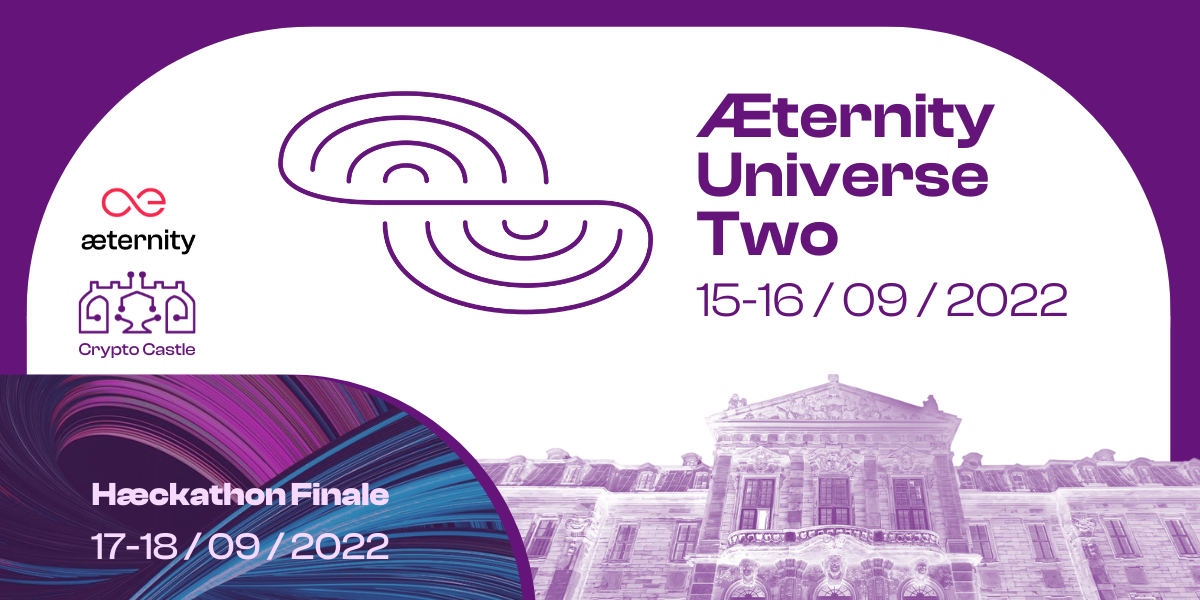 Æternity Universe Two – Incoming!
At the end of this Summer, from September 15, 2022, to September 16, 2022, the Æternity Universe Two conference is set to take place in Crypto Castle in Burgscheidungen, Germany.
The Æternity Universe Two conference follows the hugely successful Æternity Universe One, which took place in Prague on September 20–21, 2019. (all of the Universe One talks that took place are available right here!)
This September, all of you will have the opportunity to become a part of the æternity blockchain history! The Æternity Universe Two conference, consisting of the conference itself (September 15-16) and an immediately-following grand finale of the hackathon (September 17-18), stands to draw in hundreds of blockchain developers, researchers, entrepreneurs, designers, and enthusiasts all set on a common goal — to exchange knowledge, experiences, and best practices in an effort to grow and perfect the world of blockchain technology.
The Æternity Universe Two conference will have its doors open for everyone and will present a unique business opportunity for all interested parties to engage in networking and showcase events. Engage with numerous blockchain experts and backers in a friendly in-house atmosphere and grow your ideas.
Moreover, a wide plethora of development workshops will take place during the conference, thus facilitating intense knowledge transfers and allowing blockchain experts to gain info on the latest trending areas. Of course, the æternity blockchain development team will be readily on hand to provide further insights into protocol development and the state of æternity.
Additionally, the Æternity Universe Two will feature a fully immersive art experience — both via 3D art and VR — which is sure to draw the attention of various artists and designers from the blockchain sphere. Allowing diverse sets of artists to engage with NFT technology, as well as physical and digital Crypto art, will be sure to provide inspiration for future objets d'art.
Finally, don't forget the place itself — Crypto Castle. Dating back to the first millennia, it is one of the oldest, best preserved baroque secular buildings in the Thuringian and Saxon-Anhalt region. Of course, it got upgraded in the meantime and now includes a dedicated hackers lab utilizing æternity blockchain technology. Now, with the conference taking place, its walls are set to ring with music and vibrant discussions, deep into the night!
So, wait no longer — early registration for the æternity Universe Two is open, as is the registration for the Æternity Universe Hæckathon that starts remotely on August 1 via DevPost!
Click here to book your tickets to Æternity Universe Two today!